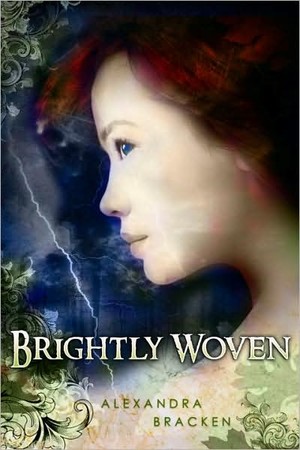 Title:
Brightly Woven
Author:
Alexandra Bracken
Hardcover:
354 pages
Publisher:
Egmont
Release Date:
March 23, 2010
Source:
Library
Intrest:
Synopsis
Synopsis:
When Wayland North brings rain to a region that's been dry for over ten years, he's promised anything he'd like as a reward. He chooses the village elder's daughter, sixteen-year-old Sydelle Mirabel, who is a skilled weaver and has an unusual knack for repairing his magical cloaks. Though Sydelle has dreamt of escaping her home, she's hurt that her parents relinquish her so freely and finds herself awed and afraid of the slightly ragtag wizard who is unlike any of the men of magic in the tales she's heard. Still, she is drawn to this mysterious man who is fiercely protective of her and so reluctant to share his own past.
The pair rushes toward the capital, intent to stop an imminent war, pursued by Reuel Dorwan (a dark wizard who has taken a keen interest in Sydelle) and plagued by unusually wild weather. But the sudden earthquakes and freak snowstorms may not be a coincidence. As Sydelle discovers North's dark secret and the reason for his interest in her and learns to master her own mysterious power, it becomes increasingly clear that the fate of the kingdom rests in her fingertips. She will either be a savior, weaving together the frayed bonds between Saldorra and Auster, or the disastrous force that destroys both kingdoms forever.
~Goodreads
What intrigued me about this book was the synopsis! I've always liked books that have that old time feel to it with fantasy elements and such and this book had what seemed like a cute wizard and budding romance so I just had to see what this book was about. The cover is very pretty and really captures the book's story and Sydelle.
Speaking of Sydelle, I at first was very annoyed with her. In the beginning I thought she was brash and harsh to judge North so fast. I thought she was being completely unreasonable to him and it made me dislike her a lot. But I forgave her towards the middle because she didn't seem like she had a stick up her butt as much and her character finally seemed natural and seemed to flow with the story more smoothly. I just thought it was a bit sudden how angry she was but then it finally subdued. She's a strong girl which I always love in my books so I couldn't completely hate her. Towards the end my outlook on her changed and I thought of her as a clever yet short tempered girl who also could have her sweet moments.
I couldn't really visualize North that well because I don't think the book really described how he looked. At first I thought he was tan, but no I was wrong, he was supposed to be pale and I was just confused by it all. So his character was just kind of blob of manliness wizardness hovering in my imagination. I was also confused with his personality in the beginning too. The book starts out with North seeming all gentle and what not, but really he is sort of arrogant and teasing. But that was alright, because I liked his arrogant and teasing side better than his "gentle" side. It was a lot more entertaining. The romance also did not really pick up until the middle of the book and I was so aggravated every time they didn't kiss in what would seem like a good time to do so. Oh well, I guess back then it was all chivalry and what not.
I did however, enjoy the adventure in this book. Sydelle was clever and along with the wizarding North, they were a wondrous pair! All the fights, walks, and stops were all interesting and fun to read!
Overall, this is a book to read for that fantasy fix we need once in a while and ultimately a good read!
I give it a 3 out of 5 chews!
Does this sound good? Buy it from your local bookstore!